We have a wealth of talent and expertise amongst the teachers who come and teach for us including:
Bärbel Rücker | Tanzbar
Bärbel Rücker is a tango teacher and international DJ who has played in over twenty countries at milongas, marathons, festivals and encuentros. Based in Gloucestershire, in The 
Forest of Dean
 area, her teaching can be attended in Bream & Lydney and from September 2016 in Hereford too (
www.tanzbar.dk/classes/
). She lends her skills in graphics and web design to 
The Magic Roundabout Milongas
. Actually she IS the Magic Roundabout publicity machine!
In addition to all her tango activities she is currently three quarters way through the Feldenkrais practitioner training in Switzerland (
Feldenkrais Ausbildung Bern
).
Jenny Frances & Ricardo Oria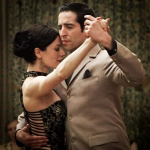 Dancing and teaching together since 2002.They have been invited to give workshops all over the UK as well as in Ireland, France, Denmark, Sweden, Germany, Spain, and Buenos Aires-Argentina.
Jenny and Ricardo have a strong foundation of study for their dance, from which they build creatively, moved and inspired by the music and the subtle yet powerful conversation within the embrace. They use their extensive teaching experience to offer the best they can to their students, understanding the responsibility of teaching tango dance and approaching it with joy.
Jenny and Ricardo emphasise the importance in learning tango of gaining a sense of your partner, a sense of yourself and a sense of the music. Not only teaching 'what', but also 'how' and prioritising steps that are useful in social dancing.
Eduardo Bozzo
Argentine Tango Teacher, Dancer and Choreographer – Buenos Aires, Argentina).   Eduardo has been teaching and performing TangoArgentino around Europe and Latin America including, but not limited to: International Festivals in Argentina, Costa Rica, Greece and the UK.
He is currently based in Bristol, Bournemouth and Southampton.
His interests cover Tango's traditional forms, as well developing the link between Tango Argentino and other expressive arts..
Tango Nomads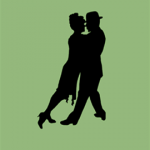 "We don't just teach tango, we teach people tango"
Our philisophy has always been recognising that everyone is unique.  People learning in their own individual way and finding fulfilment by creating their dance – remains a fundamental part of our approach.
As our focus is social dancing, we teach movements that are practical and appropriate for dancing at Milongas.  We want to help dancers of all ages to create an enjoyable, innovative dance to share with their partner and other dancers. We are keen to provide you with good technical foundations, essential if you want to progress beyond the basics.  For more information about us, our approach and many valuable articles which will help all people from complete beginners through to advanced dancers, visit Peter and Jennifer's website at:  www.tangonomads.net
Leroy Tango Cat
Dancers have enjoyed the privilege of working with Leroy as Oxford's permanent teacher for the last six years.  Trained in contemporary ballet, jazz and African dance, he is also a skilled choreographer and DJ. The Leroy Tango Cat style is smooth, elastic, sexy, soulful and passionate with the elegance of a panther.
He dances and teaches tango, milonga and waltz, in salon and milonguero style, rhythmically, melodically and in close and open embrace. To watch Leroy dance tango is truly inspirational. He learns from teaching and his greatest pleasure is to see students improve. Leroy brings the professional dancer's perspective to tango in Oxford. He attaches great importance to understanding technique, musicality, the embrace and to creating a positive social atmosphere. He has knowledge of the technique and skills of the leader and follower. Playing bass and percussion has helped him understand tango music and his lessons on musicality are unique and great fun.
Leroy has studied tango with and been inspired by:- Alison Vale; Miguel Gonzales; Gustavo Naveira and Giselle Anne; Leandro and Andrea; Junior Soares; Hector Falcon; Kely and Facundo; Jill Barret; Carlos Gavito.
Leroy says:"Everyone can dance tango. Tango fits everyone."
Ricardo Peixoto & Su Park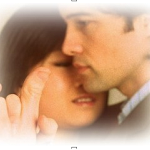 Ricardo Peixoto – if he received a penny every time he thinks about tango he would be extremely rich. Unfortunately, things don't work out that way. He came across tango a few years ago whilst suffering from his birthday hangover and got hooked on it ever since.
Ricardo learnt the core of tango in Edinburgh with Jenny Frances and Ricardo Oria, and with Jessie and Monica Tamariz, along with influences from Juan Capriotti and Graciana Romeo, who are based in Lisbon, Portugal.
Ricardo's tango is a blend of different styles, reflecting the multitude of influences he has had from his heroes. Though he is committed to develop his own style rather than adapt that of his heroes. Open and close embraces, traditional and neo-tango are words that make no sense to him. Tango is the only word he knows. The embrace, the tool to dance. The energy, the source of the dance. The balance, the equilibrium.
Ricardo was also involved in the creation of the much talked about La Otra Milonga in Edinburgh, one of the grooviest milongas on this side of the planet. Together with Su, Ricardo created TANGO WARWICK as a response to the lack of Argentine Tango in the South West of the Midlands. Since then, they have organised regular classes, practicas and milongas, and not forgetting Warwickshire's very own tango festival, Tango Spa, which became an instant success!
Ricardo is also a tango DJ with an eclectic approach. He has DJed at a variety of milongas in Scotland, England and Portugal. He is available to DJ at your milonga.When not thinking about tango Ricardo is a postgraduate medical student.
Su Park
Su's journey with Tango Argentino began during the Freshers Week at Edinburgh University, when she was captured by the magical performance by her teachers-to-be, Jenny Frances and Ricardo Oria. Previous to this encounter, her passion was in music and had been an avid classical pianist for 13 years and an innocent choir girl whilst at secondary school. But when tango took Su by storm, her commitment and singing all flew out of the window to piano.
Michele Tedder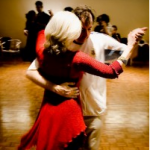 Michele started dancing tango in 1996 and has studied the dance extensively for the past 15 years…for her, it is a case of  "life long learning!" –  the essential important elements being the walk, the embrace and the music.
She loves to travel to Argentina and Italy regularly to study and to dance. She has been involved with teaching on a voluntary basis in Bristol since 2002 and is now teaching professionally, both with Tango West and on an independent basis. Since 1998 she has also been organising regular milongas, workshops and special events with Tango West.
Amongst the teachers that Michele has studied with and been inspired by are:  Christine Denniston (UK); maestros Nestor Ray and Ricardo Vidort, (both now sadly  deceased); Patricia Ray, Miriam Pincen, Stella Barba,  Roberto Canelo & Valeria Eguia, Milena Plebs & David Palo, Corina dela Rosa, Augusto Balizano, Graciela Gonzalez (Argentina); Andreas Wichter, Anne-Cecile Dubois, Melina Sedo & Detlef Engel (Europe) to name but a few.
Michele had developed a strong appreciation for tango music and regularly DJ's at Tango West events; she is available to DJ, playing traditional tango music from the Golden age, arranged in tandas & cortinas!
Mike and Sian Fussell
Sian and Michael discovered Argentine tango in the late 90's. Thus began a never ending journey of learning which has taken them to Buenos Aires, the U.S.A., Asia and all over Europe and the U.K. In 2000, with two friends, they founded Tango Y Nada Mas in Cardiff, the first Argentine Tango club in Wales. Here they have hosted and learned from many of the best known Argentine masters.
Their teaching aims to concentrate on providing a thorough understanding of the basics of the dance and promote a love of the music, so that leaders and followers can build on this foundation to develop their own style and improvisations.
Isolde Kanikani
Isolde started dancing Argentine Tango when she was 16 in the UK, but soon started to travel in Europe for more learning from many different  teachers. She travelled to Buenos Aires each year taking time to update and learn more of this Beautiful dance from Argentina. Isolde has trained in other dance styles, movement forms which have enrichened her ability to teach tango with more in depth knowledge of what it is to move rather than copy a step. Isolde has been Teaching since 2003. A Couple of years later setting up scenes and supporting others that were forming.  For the last years she has been travelling non-stop teaching workshops and classes in events and tango scenes across the UK and abroad. Outside of the UK, she has taught in the Netherlands, Spain, Norway, Germany, Portugal, France, Buenos Aires (with a resident teacher), New Zealand, Australia, and USA.
Along side the teaching Isolde DJs for various events, choreographs and
create collaborative performance with various artists of different
media, organise workshops and events, and perform tango and fusions
to a wide range of audiences. Also regularly take classes in other
movements forms that fuel her understanding of the body and constantly
improving her own ability to teach and Dance.
Michael Lavocah
Michael Lavocah is a dancer, teacher, and international tango DJ, known as a researcher and collector of tango music and the proprietor of the tango music resource and shop milonga.co.uk. He is also an instructor of Tai Chi and a craniosacral therapist.
Michael began dancing tango in 1994 and began teaching after returning from his third trip to Buenos Aires in 1997. His classes emphasise body awareness and movement, informed by over 20 years experience of bodywork, and musicality. On learning to dance he says: "Dancing is a natural activity, and our birth-right."